Here is a testimonial from the youngest home-buyer I have worked with so far in my career:

"I started as a student intern with Danny at the age of 17. I am interested in the Real Estate world, particularly Real Estate Investing, but also partly interested in being an agent. From the first time I met Danny, I knew he had a passion for his job and was very good at what he does.

Over the course of interning with him, I decided to attempt to make my first home purchase. Danny walked me through the process more than he was ever expected to. Being 18 years old and purchasing my first home was overwhelming, but Danny was there to help every step of the way. He provided me numerous links to houses in the community daily and gave me input on why each one would be a good or a bad investment. We looked at several homes without much luck, because many of the houses in my price range needed so much structural work that they would have put me in a financial hole.

When I was ready to give up on the hunt and start looking at rental homes, he promised that he wouldn't give up and he would find me the perfect home. On May 19, at about 8 AM, I got a call from Danny and he was so excited, asking me the earliest I would be able to look at a home he had found. When we met at the home a few hours later, I knew it was the perfect starter home. I put in my offer and we started the process.

Complications arose in my loan, pushing my closing date back about a month. It seemed to be one problem after the next, and of course as a first-time and very young buyer, it was stressful. Danny assured me he would get in contact with my loan officer and get things done, and as always, he followed through with his promise above expectations. He was more patient during this process than I could have ever asked for.

Flash forward to a few months later and I am settled into my new home. I highly recommend Danny for any real estate needs -- he gets the job done and goes above and beyond for his clients."

- Reagan Prince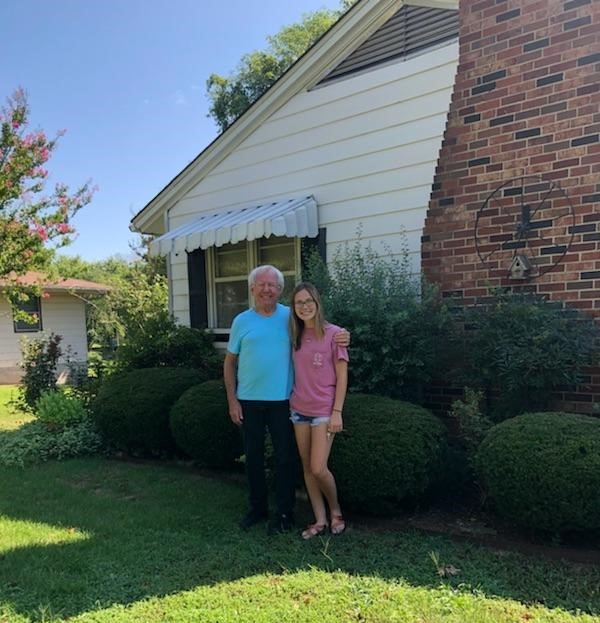 ---
The sunrise has been breathtaking in the early morning hours recently. During my morning walks, I look to the sky in awe at the amazing colors. The days are getting longer and we get to enjoy the sunshine for a few extra minutes each day.
Love is in the air and I want to list what I truly love about my profession as a Realtor since 1983:
I love to put a smile on my clients' faces. And I know I couldn't do what I love without my team of fellow Realtors, title companies, bankers, engineers, and contractors. Together, we get the job done and I appreciate every one of my team members.
I am looking forward to the future.
Here are some photos of the beautiful sunrises that the Ozarks have been blessed with over the years.
---
As Christmas approaches and this year end comes to an end, I want to take an opportunity to extend my best wishes for a safe Christmas & a happy New Year to all of my friends, family, and clients.
As we approach the end of the year, I am reminded of all the people in my life that I am thankful for, and I am reminded that I am blessed every day. In a twinkle of an eye, this year has sped by. Many good deeds have been done and there are many more to accomplish.
I hope that the coming year will be a year when members in our community more often extend a helping hand to their neighbors, coworkers, family, friends, and strangers in need.
It's a real pleasure to say "thank you" to everyone in my life who has supported me, encouraged me, laughed with me, and loved life alongside me this past year. This is the time for lots of holiday cheer, the time for seeing old friends, the time for making new ones, and the time for enjoying the company of our families!
'Tis the season to enjoy life! I wish everyone a merry Christmas and a joyous New Year, full of happiness and success!
---
It is that time of the year... when thoughts of the holidays slowly drift upon us, as another fast-paced year soon comes to an end.
This year has brought many successes for me & my profession, and I know even more accomplishments are just around the corner!
The weather is changing in the Ozarks – mornings and evenings are filled with beautiful skies and a bit of a chill in the air. Fall is finally here and winter is on its way close behind. I ask my friends & my readers to enjoy every day as if it were your last.
---
Here I am again, enjoying my coffee on the deck before daylight in early August. The weather is awesome – nice & cool – especially for the summer! The local real estate market is very good and so far, it's another record-breaking year.
My thoughts turn from business to something that is very near & dear to my heart: giving my time to help coordinate the annual Bridge Bash event. Bridge Bash is an event put on by the Food Bank of North Central Arkansas in Cotter, Arkansas every year. The event is meant to raise awareness to folks in our area who don't have enough to eat, many of which are children. I feel driven to volunteer my time to help this worthy cause.
Our local food bank is amazing because of the selfless volunteers who give so much to help others. Please come out to participate in Bridge Bash this year at Big Spring Park in Cotter on September 23rd from 10am until 7pm. We will be glad to see the wonderful people who attend & help us to achieve our goal of providing 500,000 meals to those in need.
Learn more about Bridge Bash 2017 by clicking here.
Here are some photos from Bridge Bash 2016, plus some beautiful photos of the Ozarks during the fall season.
---
As I sit, sipping my coffee on my back deck, gazing across the fog-covered terrain, I reflect back over this year and feel a smile coming on. Our rainfall at times was epic. The beauty of nature was both violent and picturesque. Flooded rivers scraped mud and branches from the shoreline, leaving barren ground behind when the swell subsided.
But life is good and we are moving on. Our community in this wonderful area came together to help one another in our times of need, when nature fought against us. Through the tough times, we hold tight and we rebuild stronger than before.
I hope everyone enjoys their summer and the beautiful excitement that the Ozarks bring.
---
Springtime is about new beginnings... for people, for nature, for everything in-between. Even though it is officially spring, the indecisive Arkansas weather has allowed me to see frost on the rooftops in the morning while still enjoying a warm breeze in the afternoon. It is always a beautiful morning here in Mountain Home.
The dogwoods are in bloom, the grass is turning green (recovering from the brown tint it had just days before), and the birds are singing a happy tune. They scurry about, searching for seeds falling from the newly-opened blooms in the garden. Spring in the Ozarks is beautiful, alive, and bustling with activity - my favorite time of the year.
---